I have been an Act! user since the late 1980s, and have trained other users throughout the many years since. My Act! experience spans a multitude of industries and Users including real estate (commercial, single-family, multi-family), mortgage, design, architecture, automotive, distribution, legal, consulting, business brokerage, etc. This provides a wide margin of understanding in how to best customize Act! for your needs, and how you and/or your team can leverage Act!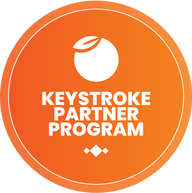 Proud Member of the Keystroke Partner Program
– the #1 Act! Reseller & Support Team in the World
"When I started my job with Springhill Suites in August 2011, Brenda was able to give me a crash course in the use of Act!  She was very patient with me, (since all of this was new to me).  Brenda explained everything to me in a way that made sense."
"Brenda Ralston has been an amazing asset to our company as well as to me personally. When we first contacted her 3 years ago I had only been working for Ron Davis Consulting for 2 weeks. Ron and I both were immediately impressed with her professionalism as well as her personality, Brenda came to our office , sat down with me and walked me through the entire process of our Act! program as well as making suggestions on how we could better utilize its capabilities. She is always available to us via telephone conversations, email and most importantly in person. I learn something new from her on a regular basis and she is a joy to work with."
"I enjoyed very much training with you on Act! as you were able to tailor the training in accordance with the knowledge I already had on the program.  You also did a great job of showing me short cuts and other features I'd never used in Act!"
"Brenda showed us tricks to save time and headaches!.  Having her train you is like having an Act! Cheat Sheet in your pocket!"
"Brenda is a patient and thorough trainer, helping the Frontiers of Flight Museum staff master Act! skills as we are ready to learn more and use it more efficiently.  She has been very responsive to immediate needs for assistance with Act!, willing to give specific instruction on steps that staff may have forgotten as well as training on new skills as our level of sophistication with the program has grown."
"Brenda was an immediate source of information and training for me. As a new user in Act! she was able to make me comfortable with some of the capabilities. She has responded with information and guidance very quickly and in a manner that was very easy to understand and utilize."
"Just a note of thanks in your helping myself and my team keep on track and ahead of the game with Act!  You are obviously very knowledgeable of the product and after installation of our new version, it was more than helpful that you were able to show us around to the differences in the new program.  Having previously worked with us, you were attentive to our business type such that you pointed us to some new features more specific to our line of work, and with some time-saving techniques.

As our team is not on the cutting edge of technology, you adjusted to our experience level and kept the learning curve interesting to us.  You have always been able to work us thru our issues and go the extra distance to remedy the situation. Your exemplary measure of professionalism is much appreciated and it is always a pleasure doing business with you."
"You were able to identify ways to make our work more efficient and you also provided the training the staff needed."
"Brenda Ralston has been a world of help to me and my company.  She brings to the table the common business sense missed by other 'techies'.  Her ideas are sound and her knowledge of Act! make our life so much simpler. She is the best the way she stays at a project until it is clean and completed."
Brenda is such a voice of calm when tech issues throw everyone into panic. She's patient, knowledgeable, and a great problem solver. I can't imagine working with anyone else when it comes to ACT! implementation or troubleshooting. Thanks for all your good work, Brenda. You're the best!